Pet Supplements

Pure, All Natural Omega 3 Fish Oil for Dogs & Cats, Joint Supplement Wild Caught,No Preservatives, High in EPA and DHA, Eases Pain, Reduces Allergy Symptoms, Improves Coat, Less Shedding
ELIMINATES EXCESSIVE SHEDDING, PAINFUL JOINTS AND IMPROVES SKIN AND COAT HEALTH - Our Omega-3 Fish Oil Balances The Properties Of Omega-6 And Acts As An Anti-inflammatory In Conditions Like Allergies, Arthritis, And Other Inflammatory Diseases
NO ADDITIVES, NO PRESERVATIVES, NO TOXINS, NO GMO - Willie's Choice Premium Omega-3 Fish Oil Is Pure, Human Grade, Pharmaceutical Quality Omega-3 Fish Oil
BEST NATURAL SOURCE OF OMEGA-3 - Our Fish Oil Has A Higher Concentration Of EPA & DHA Than Salmon Oil
 
HELPS PUPS DEVELOP INTO HAPPY, HEALTHY DOGS AND KEEPS OLDER DOGS SHARPER LONGER - Our Omega-3 Fish Oil Aids In Cognitive Development In Puppies And May Improve Cognitive Function In Older Dogs
 
ECONOMICAL - LESS THAN 50 CENTS PER DAY -Recommended dosage is one pump per 25 pounds once daily. One bottle will last several months for a medium size dog
100% COMPLETE SATISFACTION GUARANTEED - Our Fish Oil Comes From Fish Caught Wild In The Pristine Water Off Iceland. Molecularly Distilled And Bottled In The United States In An FDA Registered Facility. Because Willie's Choice Pet Products Only Offers The Highest Quality Supplements Available For Your Pet We Offer A 100% Complete Satisfaction Guarantee.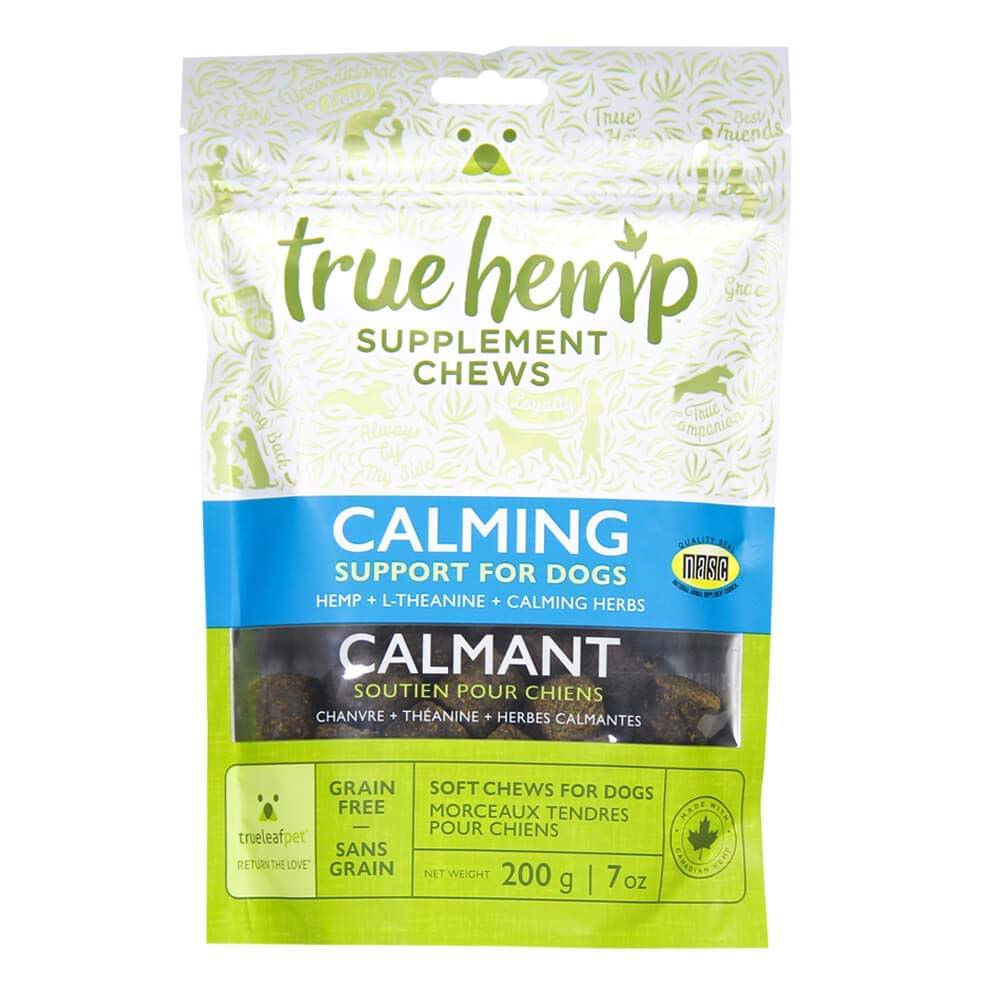 TRUE HEMP™ SUPPLEMENT CHEWS CALMING SUPPORT FOR DOGS
It is difficult to see our dogs in anxious or stressful situations. This unique True Calm® formulation combines hemp seed with active ingredients; creating a synergistic effect that promotes the reduction of hyperactivity and helps bring calm to their day.
HEMP SEED: Supports normal healthy brain activity and nerve function.

 

OMEGA 3 FATTY ACIDS: From hemp seed and salmon to support healthy cognitive function and regular disposition.

 

L-THEANINE: Helps promote relaxation.

 

CALMING HERBS: Extracts of chamomile and lemon balm help maintain normal emotional balance.

 
• ACTIVE INGREDIENTS PER 5 GRAMS (ONE CHEW) •
Hemp Seed Powder (500 mg)
Cold Pressed Hemp Seed Oil (100 mg)

 

Omega 3 (hemp seed, salmon) (30 mg)

 

L-Theanine (AlphaWave® brand*)(25 mg)

 

Chamomile Extract (12.5 mg)

 

Lemon Balm Extract (12.5 mg)